Funko revealed new Star Wars: Return Of The Jedi 40th anniversary Funko Pops at Funko Fair 2023.
There are six new common Pops! including Darth Vader (unmasked), C-3PO, Wicket, Princess Leia, Princess Leia (Boushh Disguise) and Luke Skywalker.
You can be notified when these Pops are available at Funko.com or Funko Europe.
There is also an amazing Funko Pop! Moments, featuring the epic father & son spat between Darth Vader and Luke Skywalker. That's not all as you can also add Jabba The Hut & Salacious B. Crumb to your collection.
It wouldn't be right if there weren't Star Wars Funko Pop! exclusives to collect. That's why Holographic Luke Skywalker, Emperor Palpatine, Max Rebo and Brethupp are up for grabs.
Holographic Luke Skywalker is an Entertainment Earth exclusive in the US. In the UK and Europe, you can get him at Funko Europe and GAME in the UK or Micromania in France when available.
Emperor Palpatine is a Hot Topic exclusive in the US. FNAC holds the exclusive in France and Funko Europe for the UK and the rest of Europe.
Max Rebo is a Walmart exclusive in the US. In Germany, you can get Max Rebo at Nerdy Terdy Gang or Funko Europe for the UK and the rest of Europe.
Brethupp is a GameStop exclusive in the US. You can get at GAME in the UK, Micromania in France or Funko Europe and Gamestop across Europe.
And there is more, with the first two nesting Funko Pops! revealed riding on Jabba's Desert Skiff! Both Chewie and Luke Skywalker are now up for pre-order.
Both are Target exclusive in the US: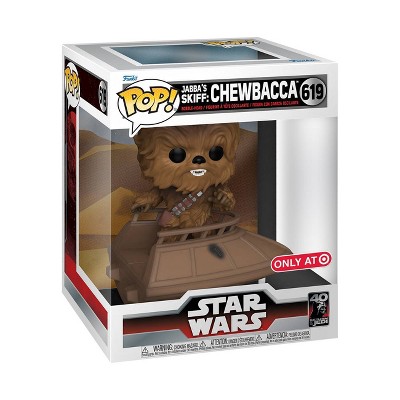 You can also grab both Chewbacca and Luke Skywalker on Funko Europe when available.
Keep Updated
Follow - Arodie on Twitter.
Subscribe - To arodie.com for free and get updates straight to your inbox.